Meshuggah are a metal band from Sweden, formed in 1987, at this time the line-up was Fredrik Thordendal (Guitar), Jens Kidman (Vocals), Johan Sjögren (Guitar), Per Sjögren (Drums) and Jörgen Lindmark (Bass). However Kidman soon left the band and started the band Calipash.
In 1988 Sjögren left Meshuggah and guitarist Jonas Lindberg took his place in the band. Although later on Thordendal found Calipash's music more in line with what he wanted to do and so left the band, as well as leaving the band Thordendal took the band's name Meshuggah. From then on Calipash were known as Meshuggah. However after the newly re-formed group Torbjörn Granström, one of the founding members of Calipash left the band.
In 1989 Meshuggah's line up consisted of Fredrik Thordendal (Guitar and Vocals), Jens Kidman (Guitar and Vocals), Niclas Lundgren (Drums) and Peter Nordin (Bass). During this year the band released their debut EP entitled "Psykisk Testbild". However later this year Lundgren decided to leave the band. Tomas Haake replaced Lundgren in 1990 before the band recorded their debut LP entitled ""Contradictions Collapse" which was release in 1991. During this period the band had been signed to Nuclear Blast, a German record company.
Drummer Tomas Haake
At the end of 1992 and the beginning of 1993 the vocalist and guiartist (at the time), Kidman, decided to relive his guitar duties and consenrate on his vocals. This left the responsiblities for guitar to Mårten Hagström. This new line-up recorded the EP "None" in 1994 as well as "Selfcaged", which was a demo for the band's upcoming album "Destroy Erase Improve" this album was released in 1995. "Selfcaged was released in 1994. However Peter Nordin left the band due to personal reasons and illness which he suffered throughout the start of 1995. Gustaf Hielm replaced Nordin in the 1998 after being a session member for two years.
The band recorded their next albym in May 1998 and was released in November the same year, the album was called "Chaosphere". Chaosphere, showed a faster and more aggressive Meshuggah. Three years later the band released a collection of rare tracks entitled "Rare Trax". The album consisted of demos and impossible-to-find recordings.
The band's next album was entitled "Nothing", it was released in August 2002 and it showed a Meshuggah focusing more on groove and a lower/growlier production. The band continued to promote the album until Hielm parted with the band. After the departure of Hielm the band entered the studio to record the 21 minute song later to be named "I". With Gustav now no longer in the band, Meshuggah needed to find a new bassplayer the band recruited Dick Lövgren. In 2005 the band released "Catch Thirtythree", this new album was very guitar driven. The band's next album "obZen" was released in 2008.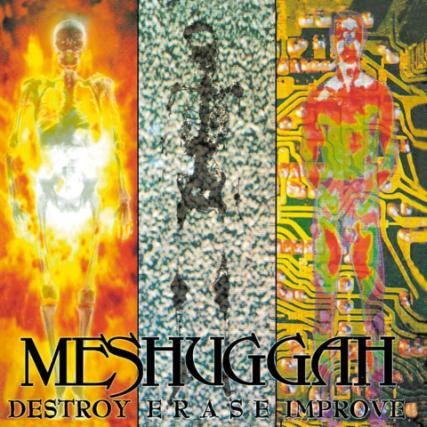 Meshuggah Discography
Albums:
Contradictions Collapse (1991)
Destroy Erase Improve (1995)
Chaosphere (1998)
Nothing (2002)
Catch Thirtythree (2005)
obZen (2008)
______________________________________________________
Compilation albums:
Rare Trax (2001)
Extended plays:
Psykisk Testbild (1989)
None (1994)
Selfcaged (1995)
The True Human Design (1997)
I (2004)